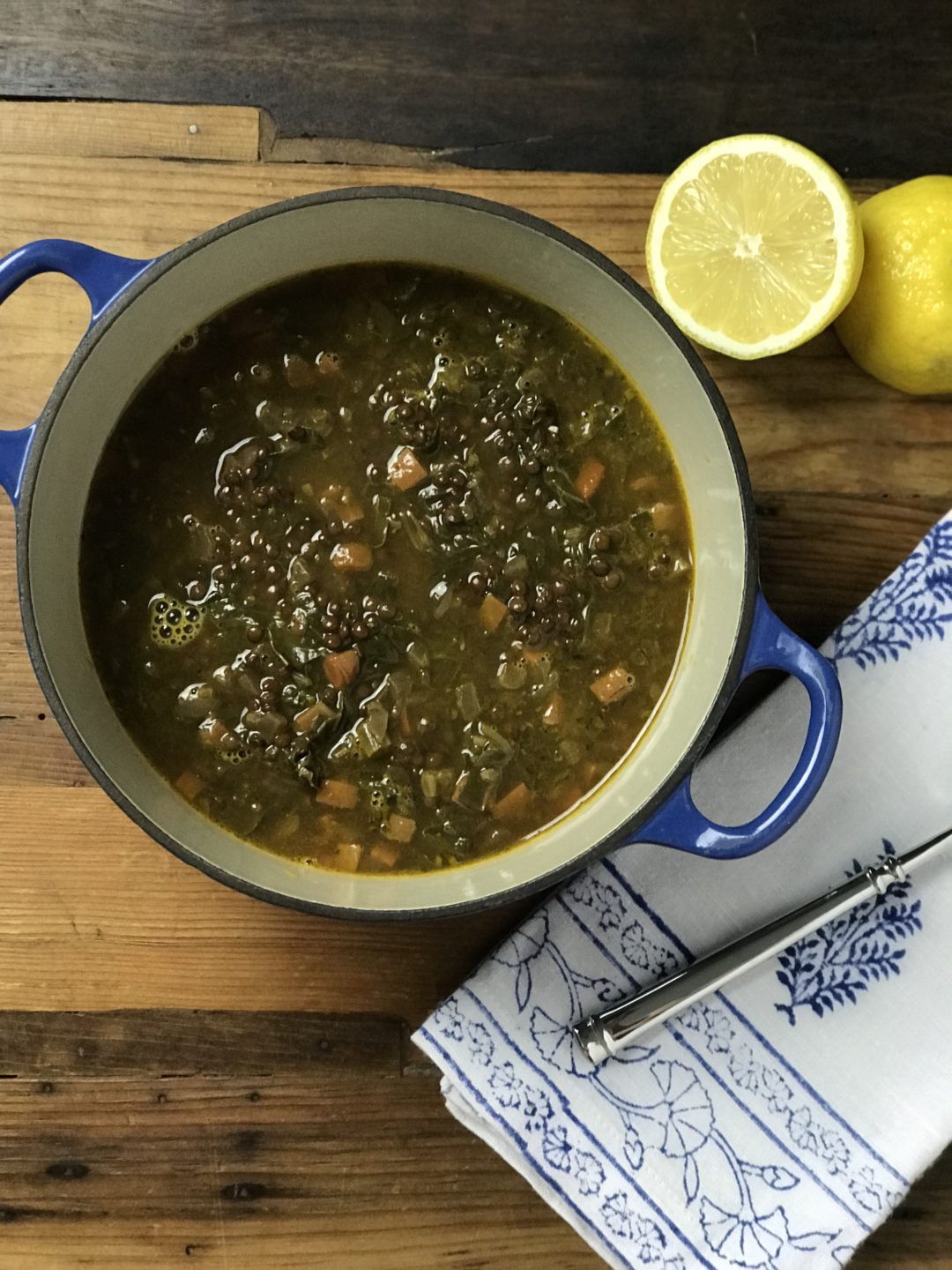 I think it's funny that as I sit here now about to write a post on lentil soup, I am still dreaming about those ribeyes I cooked last night. On the stove top, constantly basting the meat with melted butter until a thin crust formed, those steaks – or at least the only one I didn't overcook – were some of the best I've had in recent memory. More on those later…
As we move into 2018, I am making a considered effort to incorporate more vegetables into my diet and this soup makes it all too easy. In a half hour, you'll have a fortifying bowl of lentil soup spiked with citrus and full of vitamin-packed Swiss chard. The recipe originally came from Mario Batali's Big American Cookbook and has been slightly tweaked here.
Lemon-Lentil Soup
Serves 6 to 8
2 tablespoons olive oil
1 onion, finely diced
2 carrots, finely diced
2 stalks celery, finely diced
3 cloves garlic, thinly sliced
1 tablespoon fresh rosemary, chopped
Kosher salt and freshly ground black pepper
1 cup lentils
6 cups vegetable broth
12 ounces Swiss chard, stems removed and leaves thinly sliced
Juice of 2 lemons
Rinse lentils. Heat oil in a large, heavy pot over medium-high heat until it shimmers. Add onions, carrot, celery, garlic, rosemary, and salt and pepper to taste and sauté for 5 minutes. Stir in the lentils and the broth. Bring to a boil, then reduce heat to medium-low and simmer for 20 minutes, or until the lentils are tender. This may vary depending on the kind of lentils you are using, so best to use the package instructions to guide your cooking time. Stir in the chard leaves and cook until they wilt. Add the lemon juice and season well with salt and pepper. Serve hot.