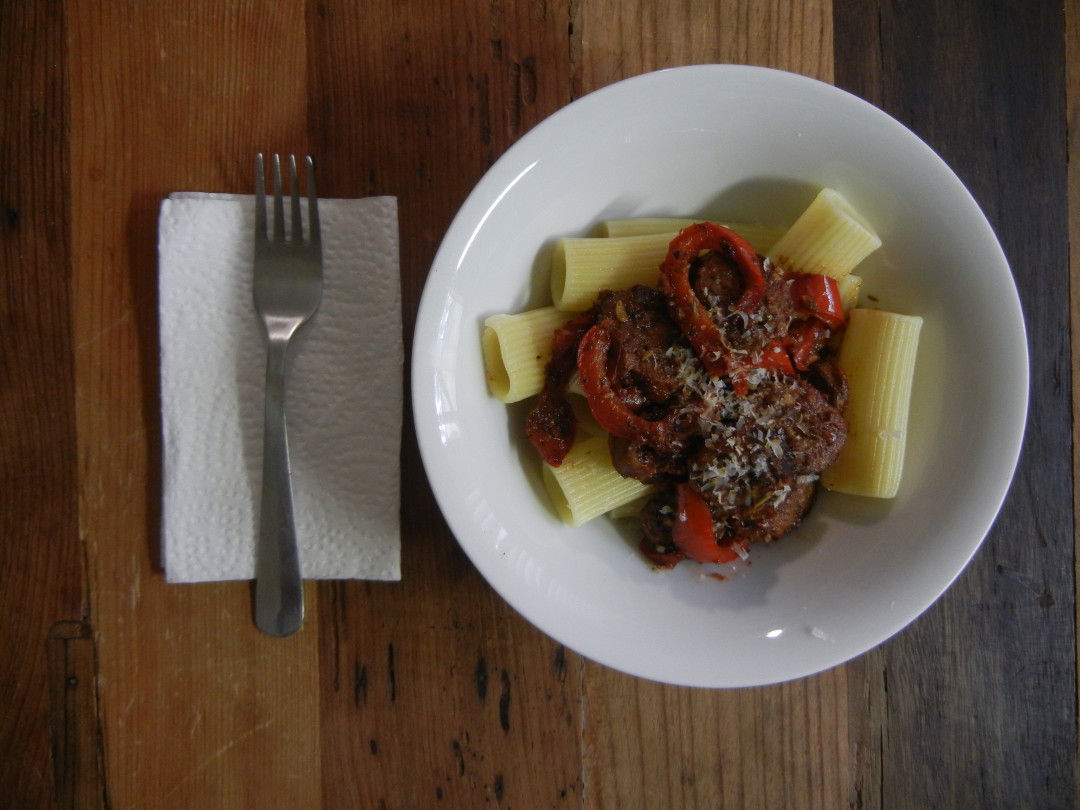 Most of us are familiar with the idea that the higher your expectations are, the greater the potential for disappointment becomes. May I present Exhibit A: Pasta with Sausage and Peppers.
We were looking forward to this pasta dinner all week long, though apparently with very different ideas about what the much-anticipated meal would look like. Since "everyone should have a hearty pasta sauce like this one in his repertoire" – to quote The Silver Palate – I had the highest of hopes for dinner. I was seeing the birth of an absolute classic to rival the always popular Bolognese; he, on the other hand, was envisioning just that exact Bolognese, and a little less fancy if at all possible. Ragú anyone?
He first wondered at the use of sweet Italian sausage where ground beef should have been and eyed me as I added thin strips of red bell pepper to the pot. He even questioned the very shape of the noodles I planned to use. When I suggested ricotta instead of parmesan, I think he winced.
It didn't help that I had halved the recipe and either this should not have been done or my math skills aren't quite up to snuff. There was a certain lack of sauciness. Suffice it to say, if you had put a bun on it, you would have had a very chi-chi "deconstructed" sausage and pepper number. This dish was DOA – dead on arrival.
With such high hopes dashed, the evening took on a more sombre tone and dare I say silence ensued. The less than spectacular movie in this dinner-and-a-movie scenario suddenly became a lot more interesting; though I can't say I remember the name of it now.
In all honestly, I'm not sure why this recipe didn't pan out so well. For those willing to give it a shot, check it out below.
Pasta with Sausage and Peppers
Makes 2 quarts sauce, enough for 2 pounds pasta
2 pounds sweet Italian sausage
3 tablespoons olive oil
1 cup finely chopped yellow onion
3 sweet red peppers, stemmed, seeded and cut into medium-sized julienne
1 cup dry white wine
1 can (2 pounds, 3 ounces) Italian plum tomatoes, including the liquid
1 cup water
1 tablespoon dried oregano
1 teaspoon dried thyme
salt and freshly ground pepper, to taste
dried red pepper flakes
1 teaspoon fennel seeds
1/2 cup chopped Italian parsley
6 (or more) garlic cloves, peeled and finely chopped
1. Prick the sausages all over with the tines of a fork and put them in a pot with 1/2 inch of water. Set the pot over medium heat and simmer the sausages, uncovered, in the water for about 20 minutes. Eventually the pot will boil dry and the sausages will begin to fry in their own fat. Turn them occasionally and cook for another 10 minutes, or until they are well browned. Remove sausages from the pot and drain them on paper towels.
2. Pour sausage fat out of the pot but do not wash pot. Set it over low heat, add the olive oil and onions, and cook them, covered, until tender, about 25 minutes.
3. Add the peppers, raise the heat, and cook uncovered for another 5 minutes, stirring often.
4. Add the wine, tomatoes, water, oregano and thyme, and season to taste with salt, black pepper and red pepper flakes. Bring to a boil, reduce heat and simmer, partially covered, for 30 minutes.
5. Meanwhile, slice the sausages into 1/2-inch thick rounds. When the sauce has simmered for 30 minutes, add sausages and fennel seeds and simmer, uncovered, for another 20 minutes.
6. Add parsley and chopped garlic and simmer for another 5 minutes.