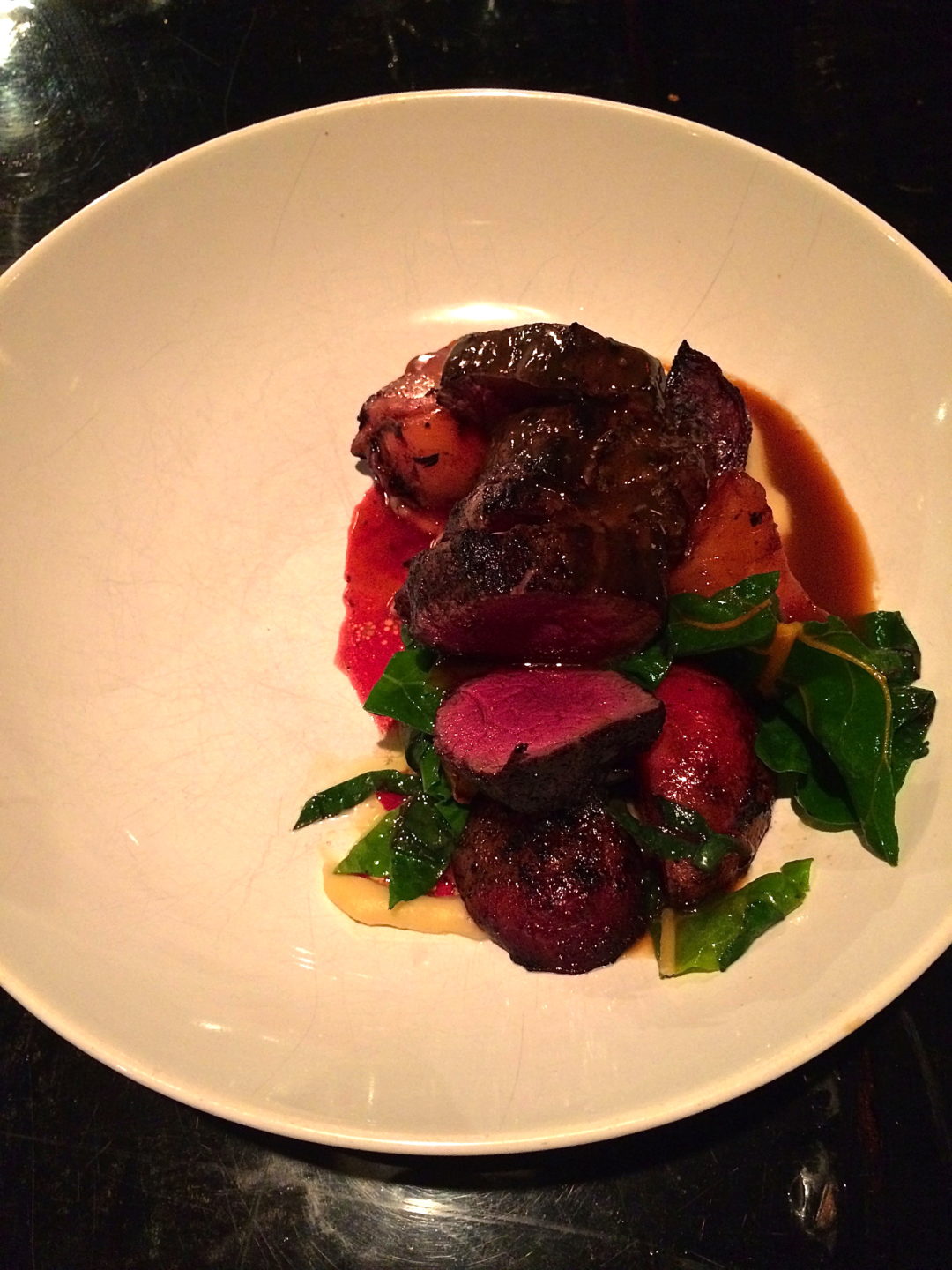 As I savored the last bite of date cake, I admired the lone wedge of soft sheep's milk cheese amid cracker crumbs and empty grape vines on the plate in front of me. Our enthusiastic cocktail hour had been fueled by a day spent walking Montréal end to end. It had been cold and windy, and driven by the weather and a slight peckishness, we had ducked into an Anthony Bourdain-approved cheese shop to load up on essentials.
Now, beyond satisfied, I wondered how I would revive my appetite before our dinner at Restaurant Manitoba. The reservation had been made months in advance, prompted by a slew of favorable reviews and its enticing "New Canadian" cuisine. Saturday dinner at an upscale restaurant was in fact the only part of our trip we had planned; it was to be the highlight of our weekend getaway.
One failed Uber pickup and two taxi rides later, we arrived at an unassuming storefront on a remote street, miles from the bustling downtown area where Megan and I were staying. We were almost an hour late, but our bar chairs overlooking the area of the kitchen were a pair of playful sous chefs plated appetizers proved to be the best in the house.
The restaurant seeks to bring nature, or the essence of the outdoors, into the dining room. It prides itself on locally-sourced – the honey used to make the cake in Meg's dessert was harvested from a hive on the restaurant's back porch – high-quality ingredients artfully presented. Although our menu was in English, we still needed translation support from the friendly staff. What exactly is walleye? And this King Eringii, do tell me more.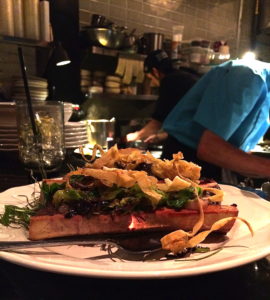 Eater Montréal named Manitoba the 2014 Restaurant of the Year and watching the food come together from our
perch, Megan and I knew we were in for a treat. To start, Megan ordered the smoked bone marrow, sprinkled with maple sugar and black garlic salt and served with cider jelly. There were roasted Brussels sprout leaves and caramelized onions on top, crostini on the side. Not sure any commentary is needed here; except to say it was probably the best thing I tasted all weekend. I opted for Arctic char gravlax – utterly delicious – that was layered on top of burnt cauliflower, served at room temperature. The fried lichen ornamentation was, if anything, a whimsical touch.
At this point in the night, I remembered something I read in Bee Wilson's First Taste.  Researchers have found that if we are presented with novel foods that excite us when we are full,  the brain's pleasure sensors can actually override the chemicals that tell us we've had enough; we feel as though there is room to eat more. Cocktail hour was now a distant memory and all I wanted to do was try everything in sight.
Even though the bone marrow was tops, our main courses most definitely did not disappoint. Megan's walleye, a freshwater fish native to Canada, came in a "winter broth" with clams, various seaweeds and potatoes. My deer steak, perfectly pink and tender, was dusted with cocoa and wild mushroom powder – though I honestly can't say whether this was at all discernible – and served atop pureed parsnip with roasted beets and King Eringii (oyster mushrooms). Inside the restaurant, softly lit by votive candles, I could see how this food was meant to invoke nature's great wonders, its lakes, rivers, oceans and forests. Though I doubt any hunter has ever enjoyed such thoughtfully prepared venison…
It was fun watching everything come out of the kitchen with nothing to separate us from the crew turning out plate after plate of beautiful fresh food. They were having a good time too, getting in each other's way, staging mock sword fights, sampling chocolate cake as they plated dessert, and sipping on shots of liquor as they made their way through the shift.
Lucky for us, Saturday was the last night of MTLàTABLE, the city's annual restaurant week were many high-end eateries offer multi-course meals at a reduced rate. I'm sure they had been packed all week and judging by the general sighs of relief and slugs of booze at the end of service, all were ready for a change of pace.
To end our evening, Megan went chocolate and I autumnal. The chocolate ganache came out of a large container, so thick that the chefs had to psychically whack the spoon against the plate to get the ganache to fall out. It came with pieces of honey cake, raspberry jam – the good kind with seeds it in – and a couple shreds of thin chocolate bark studded with black walnuts and puffed rice. The ganache was out of this world. My deconstructed apple-pumpkin pie was almost too sweet. A pair of cinnamon poached apple slices were served atop apple jelly, sprinkled with an oat and sage crumble and accompanied by a "super" swirl of sweet squash whipped cream – per my request.
While the trip to Montréal was an all around success, dinner at Restaurant Manitoba was an absolute highlight.
Restaurant Manitoba
271 Rue Saint Zotique O
Montréal, QC H2V 1A4
Canada
+1 (514) 270-8000