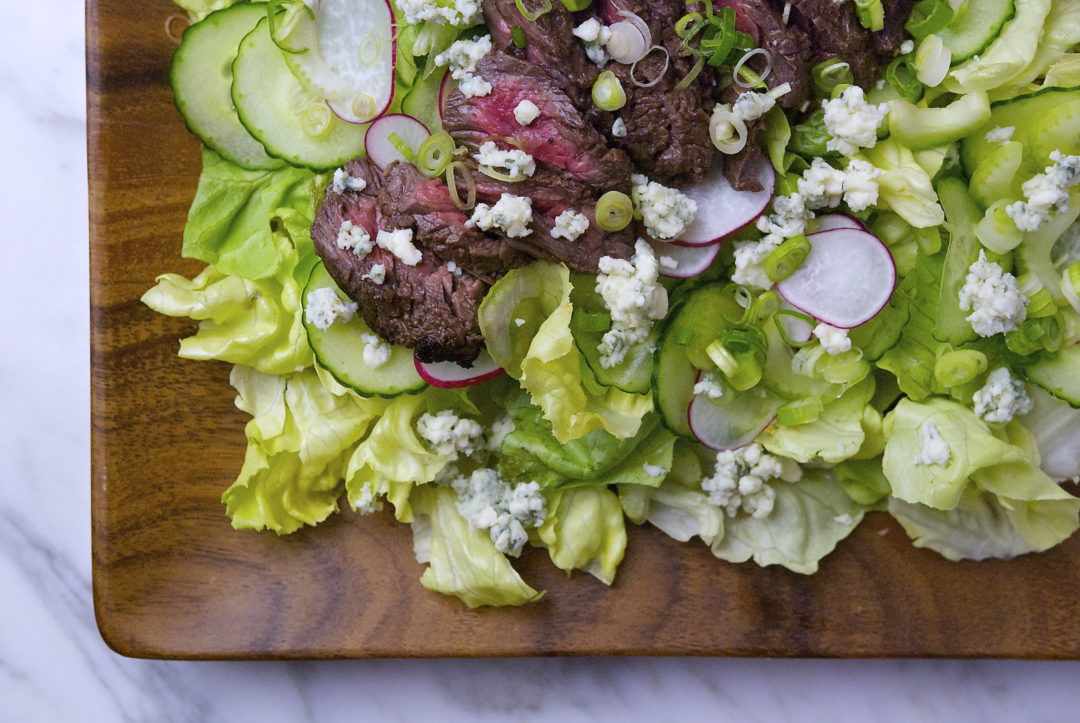 Steak salad is one of my favorite dinners, especially when it comes with blue cheese dressing. I ordered it every time we went to Witherspoon Grill in college, and I rarely order something twice at a restaurant.
I got it the time my mom surprised me for lunch while we were all in thesis-crunch mode; the thesis being a necessary requirement for all Princetonians to graduate. That steak salad came with a cocktail – or two – and progress on the thesis was rescheduled for the following day.
I got it the time my friend Daria's dad took us all out for dinner. It was the only time I ever impressed someone with my obscure knowledge of overly artistic foreign films, gleaned from an obscure cinema seminar. Another thing you need to do before graduating from such an esteemed university is take a number of "liberal arts" courses that fill you with lots of lovely information that will be of little use in making a sale, closing a deal, buying a house, or – I imagine – figuring out how you will give your child a similarly useful liberal arts education.
One thing you don't need to do to graduate from Princeton is manage a chance encounter with The Boss. Over another steak salad at Witherspoon Grill, none other than a white-t-shirt-wearing, leather-jacket-sporting, motorcycle-riding Bruce Springsteen sat across the room from my family and me. Never one to enforce seating arrangements, I insisted my sister sit next to me, hoping that between the two of us redheads we could catch the eye of one who has been outspoken in his admiration for gingers. I like to think it was the steak salad he was eating that kept him from meeting my gaze.
Steak Salad
Serves 2 -4 
1 pound flank steak
3 tablespoons vinegar, your choice
2 tablespoons oil, your choice
Kosher salt and pepper
1 large head butter lettuce
1/2 cucumber, thinly sliced
1/2 bunch radishes, thinly sliced
1 celery stalk, thinly sliced
2 scallions, thinly sliced
Blue cheese crumbles, optional
Blue cheese dressing, recipe follows
Marinate flank steak overnight or for at least 8 hours to tenderize the meat. Mix vinegar, oil, salt and pepper in a bowl. Add steak to a plastic bag and pour marinade over the meat. Refrigerate until ready to cook.
If you like your steak a little warm, prepare the salad first. If you like your steak on the cooler side, prepare the meat first. Let meat come to room temperature on the counter top before cooking to ensure even cooking. To make the salad, arrange butter lettuce on a large serving platter and arrange cucumber, radish and celery slices on top. Save scallions and blue cheese crumbles to the side to add once you've laid the steak on top of the salad.
Preheat broiler and arrange rack about 6 inches from the top of the oven. Cover a baking sheet with foil and lightly grease a wire rack to lay on top of the baking sheet. Arrange room temperature steak on the rack and broiler for 1-3 minutes max before turning to flip and cooking for another 1-2 minutes on the other side. Flank steak is so thin it will cook quickly, especially if your broiler has just one temperature setting. If you want your steak pink, you've got to be johnny on the spot with the flip and pull the meat out of the oven before the it overcooks.
Blue Cheese Dressing
Makes 1 1/2 cups
1 cup blue cheese, crumbled
1/4 cup sour cream
1/4 cup buttermilk
2 tablespoons mayonnaise
2 tablespoons lemon juice
Kosher salt and pepper
Combine all ingredients in a bowl.