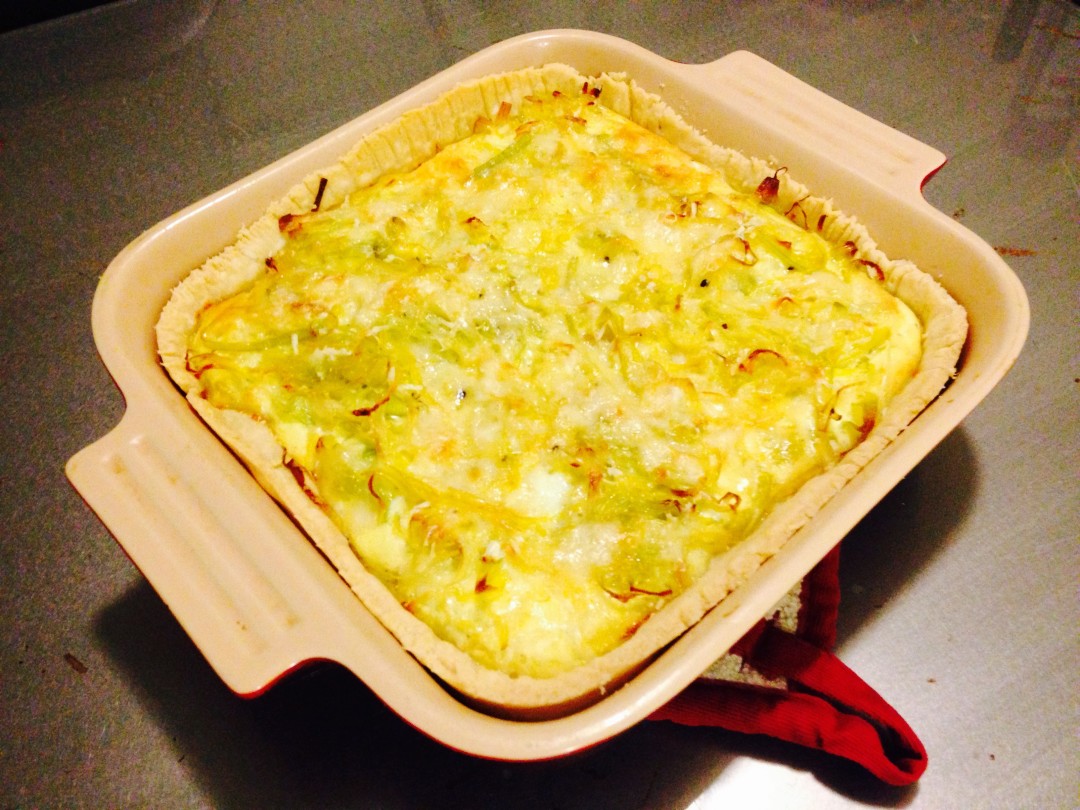 Buttery crust, creamy filling and sautéed (member of) onion (family) baked beneath a layer of melted cheese. I admit, this leek tart wasn't much of a leap of faith in the taste department as it had all the makings of something rich and delicious. Didn't hurt that it looked fairly easy to make without calling for too many ingredients.
In the quest to "take my cooking to the next level," I decided to start with no-fail option that was sure to be a crowd pleaser. Real ambitious, huh?
All in an effort to gain momentum, I say.
I paired the tart with a steak and salad for one Sunday evening supper and began my work long before dinnertime to prepare the crust. Pâte Brisèe, which served as the tart's shell, needed to be made several hours in advance so it could refrigerate for two plus hours and bake part-way before the filling could be added. The authors noted how well the dough freezes and that it would be a good idea to have a few rounds of it stashed in the freezer to make savory tarts and quiches whenever you haven't had the time to plan ahead.
Pâte Brisèe
Makes enough for one 11-inch shell or 5 or 6 small tart shells. 
1 1/2 cups unbleached all-purpose flour
1/2 teaspoon salt
pinch of granulated sugar
5 1/2 tablespoons sweet butter, chilled*
3 tablespoons vegetable shortening, chilled
1/4 cup ice water
1. Sift flour, salt and sugar in a bowl; add butter and shortening and cut them into the dry mixture with a pastry blender or two knives until mixture is a coarse meal.
2. Sprinkle on and bland in enough of the ice water to make a workable dough, mixing water in lightly with a fork.
3. Turn dough out onto your work surface and, using the heel of your hand, smear the dough away form you, about 1/4 cup at a time. Scrape up the smeared dough into a ball, wrap and refrigerate at least 2 hours.
4. Unwrap dough, place on a floured surface and pound it a few times with your rolling pin to soften it. Roll it out 1/8 inch thick, or to desired thickness.
5. Drape dough over desired tart pan(s), easing into the pan without stretching, pat into place, trim off excess and crimp edge if desired. Refrigerate 30 minutes and while the dough chills in the pan, preheat oven to 400° F.
6. Remove chilled dough from fridge and prick the bottom and sides with a fork. Line the pan with foil or wax paper; fill with beans or rice to weight the crust. (You can still use the weights for cooking later.) Bake for 10 minutes or until the dough is just beginning to color.
7. Remove from oven, remove weights and lining and cool slightly. You now have a partially baked shell which can be filled and rebaked for a quiche or tart.
* The Silver Palate calls for sweet butter throughout, though I'd never noticed this type of butter at my supermarket. Turns out sweet butter is often used to mean unsalted butter when referenced in cookbooks, but sweet butter does in fact refer to the type of cream used to make the butter. In the US, sweet cream is most often used, while in Europe, it's a cultured or soured cream that's preferred to make butter. For simplicity's sake, I will insert unsalted butter where the authors of this book have listed sweet butter.
Slicing leeks is not for the easily distracted or attention deficient among us. Cutting six leeks into small slivers took the better part of half and hour. Might have been good to know that only the white parts of the leeks should be used…apparently the white and light green parts are preferred to the darker green bits for their softer taste and less fibrous texture.
Once you've sliced those leeks and get them cooking in butter in one very large Dutch oven, the fun begins. Easily my most prized kitchen equipment is a bluish-green Le Cruset "French" oven that's been used time and time again. I never miss a chance to use it, probably in large part because I feel like a serious cook with such a serious piece of equipment!
The dish came together easily and my only thought for the next time around would be to let the leeks cool entirely before adding egg and cream mixture to tart crust. Though this is noted in the recipe, I succumbed to the pressure of getting this in the oven so we could eat, ideally before midnight. When we dug into the warm tart, there were little curds of the creamy filling. I thought perhaps the eggs might have cooked slightly when I added the mixture to the warm leeks. It still tasted great – the crust buttery and flaky, the subtle onion flavor and the warm creaminess of the filling – and by the next day, when I had some leftovers that had been refrigerated overnight, the filling was solidified.
Tarte Saint-Germain
4 main-course portions or 6 appetizer portions 
4 tablespoons unsalted butter
6 leeks, trimmed, well washed and thinly sliced
2 eggs
2 egg yolks
1 cup light cream (I used half-and-half here)
1 cup heavy cream
salt and freshly ground pepper
1 9-inch shell of Pâte Brisèe, partially cooked
1/2 cup grated Gruyère cheese
1. Melt butter in a skillet. Add sliced leeks and cook, covered, over low heat for about 30 minutes, or until leeks are tender and lightly colored. Stir frequently or leeks may scorch. Remove from heat and let cool.
2. Whisk eggs, yolks, and light and heavy cream together in a bowl and season to taste with salt and pepper. Add a grating of nutmeg if you like. (I didn't.)
3. Preheat oven to 300° F.
4. Spoon cooked leek mixture into partially baked tart shell. Add cream and egg mixture to fill the tart within 1/2 inch of the top. Sprinkle with grated cheese.
5. Set tart on the middle level of the preheated oven and bake 35 to 45 minutes, or until top is well browned and filling is completely set.
6. Cool for ten minutes. Cut into wedges and serve warm.